Dear Brothers and Sisters,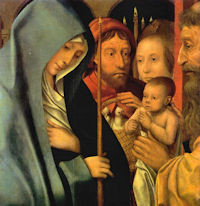 This coming Saturday is both the First Saturday and also the Feast of the Presentation of Jesus in the Temple and Mary's Purification. Bl. John Paul II commented:
Quote:
...The prophetic words spoken by the aged Simeon shed light on the mission of the Child brought to the temple by his parents: "Behold this child is set for the fall and rising of many in Israel, and for a sign that is spoken against ... that thoughts out of many hearts may be revealed" (Lk 2:34-35). To Mary Simeon said: "And a sword will pierce through your own soul also' (Lk 2:35).
Today, it seems to me we are experiencing a "hostility" toward Christ in the USA and hostility toward Mary that has not been seen to such a degree before now. Even among some who call themselves Christian there is a certain hostility toward Mary that is difficult to bear. I urge all Catholics and sincere Christians who love our Lady to take up the First Saturday devotion of reparation to Our Lady which was revealed to Sister Lucia of Fatima and approved by the Church. Even if you are unable to participate at Mass and Holy Communion, please spend time with Mary praying the Rosary and offering the love of compassionate sons and daughters to her Pierced Heart. The words of Jesus spoken to Sister Lucia are so moving to me:
"Have compassion on the Heart of your Most Holy Mother, surrounded with thorns with which ungrateful men pierce Her at every moment, without there being anyone to make an act of reparation in order to take them away."
For more on the devotion of First Saturday see
http://www.fivefirstsaturdays.com/
For more on the Feast of Feb. 2, see
http://www.catholicculture.org/culture/ ... cfm?id=852