JMJ
It won't last, and it's time to stop relying on the judiciary for things the law should be clear and subtracted to the arbitrariness of an out-of-control judicial system, but it's stillgood news
http://www.foxnews.com/politics/2012/07 ... e-mandate/
Quote:
The Catholic family that owns a Colorado-based company won a court victory in their battle to stop the Obama administration from requiring them to provide insurance coverage for abortion-inducing drugs, sterilization and contraception, a mandate they say violates their religious beliefs and First Amendment rights.

Hercules Industries, a Denver-based heating ventilation and air conditioning manufacturer that employs nearly 300 full-time workers, got an injunction in federal court which stops enforcement of the controversial ObamaCare mandate. The company's lawyers said they needed the injunction immediately because if the mandate is enforced, it must begin immediately making changes to its health plan, which renews on Nov. 1.

The case is similar to ones brought by Catholic-based colleges that have refused to provide employee insurance with such coverage, except this time, it is a secular corporation.
In his order, Senior Judge John L. Kane of the U.S. District Court for the District of Colorado said that the government's arguments "are countered, and indeed outweighed, by the public interest in the free exercise of religion."

The case still must be aired out in court, but lawyers representing Hercules savored the temporary victory.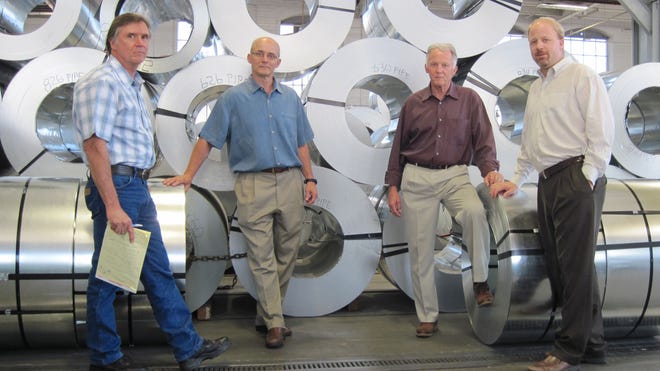 The owners of Hercules Industries -- from left to right, James Newland, Paul Newland, William Newland, Andrew Newland
Hard-working families creating solid businesses, producing goods and services people want or need and opportunities for other people willing to get up every morning and go to work: the best welfare program ever invented, and it requires zero bureaucracy and zero government funds. And, it's a Catholic invention.
Giving up principles in order to save your property will only make you lose your soul AND your property: in the ideology of those who issue directives and pass laws so immoral, the hostility towards property and business comes right after the contempt for religion.
"you didn't build that, someone else made that happen"
_________________
Fabrizio
Party like it's 1773!
The safest place for me to be is in the center of God's will, and if that is in the line of fire, that's where I'll be
-Fr. T. Vakoc