I've not seen Cardinal Ravasi's name mentioned among the papabile. Perhaps it should be?
Quote:
Since sunset Sunday, Pope Benedict XVI and the Roman Curia have been on their Lenten Retreat. Throughout the week, they are gathering in the Redemptoris Mater Chapel in the Apostolic Palace, for prayer and meditation, led this year by Cardinal Gianfranco Ravasi, President of the Pontifical Council for Culture. He has chosen as the overriding themes for his 17 separate meditations: "Ars orandi, ars credendi. The face of God and the face of man in the Psalm prayers".


http://www.news.va/en/news/card-ravasi- ... y-of-faith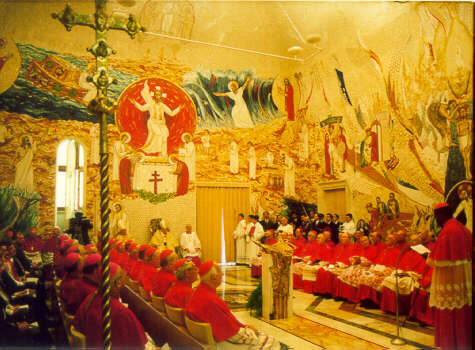 Quote:
Some commentators thought that Ravasi would be the next Archbishop of Milan, replacing Dionigi Tettamanzi, but Angelo Scola was instead appointed to that see. However, the same writers would consider him papabile in either position.

http://en.wikipedia.org/wiki/Gianfranco_Ravasi
Quote:
In November 2011 Cardinal Ravasi said preaching in churches had become formulaic and boring that it risked becoming "irrelevant". He said that "The advent of televised and computerised information requires us to be compelling and trenchant, to cut to the heart of the matter, resort to narratives and colour."

Well, there'd be no shortage of people who'd agree.
So what's the problem?
Quote:
In 2005, according to Sandro Magister, Ravasi was a leading candidate to become Bishop of Assisi but the Congregation for Bishops withdrew his candidacy after Ravasi wrote an article about Easter in the newspaper
Il Sole 24 Ore
, in which his statement, "He was not raised; he arose," was seen as potentially heterodox.
As Sandro Magister tells it,
Quote:
Because for years Ravasi has been a candidate for everything; he was even in the running for archbishop of Milan, his diocese, but until now he has always been stuck at the gate.

In 2005 it seemed done; the bishopric of Assisi was ready for him, the city of Saint Francis: a small diocese, but of great importance worldwide.

But when, on June 25, the Vatican congregation that attends to the nomination of the new bishops gathered its members for the final examination, on the table appeared the clippings of an article Ravasi published on March 31, 2002 in the Sunday supplement of the economics and finance newspaper "Il Sole 24 Ore." The article was about Easter, and the headline read: "He was not raised; he arose." Brows were furrowed; some said this was an attack on correct doctrine. Cardinal Giovanni Battista Re, prefect of the congregation, withdrew his candidacy.


http://www.catholicculture.org/culture/ ... ecnum=7738
Hmm.
Even so,
Quote:
Yet in 2007, at the invitation of Pope Benedict XVI, he composed the Good Friday meditations for the public procession of Stations of the Cross led by the Pope at the Colosseum... On 3 September 2007, Ravasi was appointed President of the Pontifical Council for Culture and Titular Archbishop of Villamagna in Proconsulari. He was also named President of the Pontifical Commission for the Cultural Heritage of the Church and of the Pontifical Commission for Sacred Archeology. He received his episcopal consecration as an archbishop on the following 29 September from Benedict XVI himself, with Cardinals Tarcisio Bertone, S.D.B., and Marian Jaworski serving as co-consecrators, at St. Peter's Basilica. On 20 November 2010, he was created and proclaimed Cardinal-Deacon of San Giorgio in Velabro.


On 11 December 2010, Ravasi was named a member of the Congregation for Catholic Education for a five-year renewable term. On 29 December 2010, he was appointed the first member of the new Pontifical Council for the Promotion of the New Evangelisation.

http://en.wikipedia.org/wiki/Gianfranco_Ravasi
A little more from Sandro Magister
Quote:
Ravasi is among the most popular of churchmen. For seventeen years he has been a star on Canale 5, the flagship of Silvio Berlusconi's television stations. But he has never made even the briefest appearance on any frivolous entertainment show. He has just one hit broadcast "Le frontiere dello spirito [The frontiers of the spirit]," which is aired on Sundays mornings with the contractual agreement that advertisements will never interrupt his interpretive readings of the Bible.

With his exegeses, Ravasi fascinates even segments of the public that never go to Mass and have grudges against the Church. And so also with his conferences: there is such demand in every corner of Italy that to schedule a conference one must wait in line for one or two years.

Ravasi is a formidable Christian preacher, a Bernardino of Siena, a Paolo Segneri, a Bossuet in a humble modern version. When he gives an address he does not read it, and each time it seems that he improvises, but his composition flows as faultlessly as a printed book. He can expound competently upon any subject, and he is ready to cite a famous author for everything, but with the Bible always as the origin and end of it all.


http://www.catholicculture.org/culture/ ... ecnum=7738
Quote:
His first books were of pure biblical exegesis, like the three imposing volumes of his commentary on the Psalms. They are scholarly works, for specialists, but they were written in an elegant, compelling style that drew the attention of the major publishing houses. A shorter version of the commentary on the Psalms was added to the 'Biblioteca Universale' catalogue of the publisher Rizzoli, destined for the general public.

And so came the revelation of Ravasi as a great popularizer. If today the Sacred Scriptures have become familiar to many in Italy, this is due in large part to this priest born in the Brianza region, in Merate, in 1942.

Even as a professor of exegesis in the theological faculty of Milan, Ravasi immediately stuck out as extraordinary. While his subtle-minded theologian colleagues churned out lessons and texts of discouraging conceptual and linguistic complexity for their peers, he did not; he knew how to make himself understood by all with simple words full of substance, within and above all outside of the academic halls.


Hmm.